7.2: The World of Work
Last updated
Page ID

3510
\( \newcommand{\vecs}[1]{\overset { \scriptstyle \rightharpoonup} {\mathbf{#1}} } \) \( \newcommand{\vecd}[1]{\overset{-\!-\!\rightharpoonup}{\vphantom{a}\smash {#1}}} \)\(\newcommand{\id}{\mathrm{id}}\) \( \newcommand{\Span}{\mathrm{span}}\) \( \newcommand{\kernel}{\mathrm{null}\,}\) \( \newcommand{\range}{\mathrm{range}\,}\) \( \newcommand{\RealPart}{\mathrm{Re}}\) \( \newcommand{\ImaginaryPart}{\mathrm{Im}}\) \( \newcommand{\Argument}{\mathrm{Arg}}\) \( \newcommand{\norm}[1]{\| #1 \|}\) \( \newcommand{\inner}[2]{\langle #1, #2 \rangle}\) \( \newcommand{\Span}{\mathrm{span}}\) \(\newcommand{\id}{\mathrm{id}}\) \( \newcommand{\Span}{\mathrm{span}}\) \( \newcommand{\kernel}{\mathrm{null}\,}\) \( \newcommand{\range}{\mathrm{range}\,}\) \( \newcommand{\RealPart}{\mathrm{Re}}\) \( \newcommand{\ImaginaryPart}{\mathrm{Im}}\) \( \newcommand{\Argument}{\mathrm{Arg}}\) \( \newcommand{\norm}[1]{\| #1 \|}\) \( \newcommand{\inner}[2]{\langle #1, #2 \rangle}\) \( \newcommand{\Span}{\mathrm{span}}\)\(\newcommand{\AA}{\unicode[.8,0]{x212B}}\)
Objectives
Describe how the nature of work in the United States has changed over time.
Explain how the composition of the labor force has changed in the United States.
Describe the factors that contribute to job satisfaction.
Analyze the ways in which technology has changed the nature of work.
Universal Generalizations
Work is an important aspect of adult life.
In American society, many see work as a way to achieve one's passions, a source of accomplishment and self- esteem.
It is almost impossible to employ every adult member of society.
In the United States, there have been significant changes to the nature of work.
Guiding Questions
What types of jobs do American workers hold?
How has the labor force in the U.S. changed?
What significance does education play for those entering the job market?
What is outsourcing? How does it affect the labor force?
What are the factors that contribute to job satisfaction?
How has technology changed the nature of work?
Do you think it is right for workers to surf the web on company time?
Work and Labor in the United States
The history of work and labor in the United States reflects the change, discussed earlier, in economies from agricultural to industrial to postindustrial. From the time the colonies began in the 1600s until well into the 19th century, the United States was primarily an agricultural society, as people worked on their own farms, and the family was the major unit of economic production. With the advent of industrialization came machines and factories, and the secondary, manufacturing sector became dominant. In the decades after the Civil War, the Industrial Revolution transformed the nation.
http://2012books.lardbucket.org/books/sociology-comprehensive-edition/s16-04-work-and-labor-in-the-united-s.html
The American Dream has always been based on opportunity. There is a great deal of mythologizing about the energetic upstart who can climb to success based on hard work alone. Common wisdom states that if you study hard, develop good work habits, and graduate high school or, even better, college, then you'll have the opportunity to land a good job. That has long been seen as the key to a successful life. And although the reality has always been more complex than suggested by the myth, the worldwide recession that began in 2008 has made it harder than ever to play by the rules and win the game. The data are grim: From December 2007 through March 2010, 8.2 million workers in the United States lost their jobs, and the unemployment rate grew to almost 10 percent nationally, with some states showing much higher rates (Autor 2010). Times are very challenging for those in the workforce. For those looking to finish their schooling, often with enormous student-debt burdens, it is not just challenging—it is terrifying.
So where did all the jobs go? Will any of them be coming back, and if not, what new ones will there be? How do you find and keep a good job now? These are the kinds of questions people are currently asking about the job market in the United States. http://cnx.org/contents/afe4332a-c97f-4fc4-be27-4e4d384a32d8@7.20:82/Introduction-to-Sociology
Notably, jobs in farming are in decline. This is an area where those with less education traditionally could be assured of finding steady, if low-wage, work. With these jobs disappearing, more and more workers will find themselves untrained for the types of employment that are available.
Another projected trend in employment relates to the level of education and training required to gain and keep a job. As the chart below shows us, growth rates are higher for those with more education. Those with a professional degree or a master's degree may expect job growth of 20 and 22 percent respectively, and jobs that require a bachelor's degree are projected to grow 17 percent. At the other end of the spectrum, jobs that require a high school diploma or equivalent are projected to grow at only 12 percent, while jobs that require less than a high school diploma will grow 14 percent. Quite simply, without a degree, it will be more difficult to find a job. It is worth noting that these projections are based on overall growth across all occupation categories, so obviously there will be variations within different occupational areas. However, once again, those who are the least educated will be the ones least able to fulfill the American Dream.
In the past, rising education levels in the United States had been able to keep pace with the rise in the number of education-dependent jobs. However, since the late 1970s, men have been enrolling in college at a lower rate than women, and graduating at a rate of almost 10 percent less. The lack of male candidates reaching the education levels needed for skilled positions has opened opportunities for women, minorities, and immigrants (Wang 2011).
http://cnx.org/contents/afe4332a-c97f-4fc4-be27-4e4d384a32d8@7.20:82/Introduction-to-Sociology
Recent Trends in Jobs and Wages
Recall that the United States has joined other industrial nations in moving into postindustrial economies. If physical prowess and skill with one's hands were prerequisites for many industrial jobs, mental prowess and communication skills are prerequisites for post-industrial jobs.
This move to a post-industrial economy has been a mixed blessing for many Americans. The information age has obvious benefits too numerous to mention, but there has also been a cost to the many workers whom postindustrialization and the globalization of the economy have left behind. Since the 1980s many manufacturing companies moved their plants from U.S. cities to sites in the developing world in Asia and elsewhere, a problem called capital flight. This shift has helped fuel a loss of more than 1.5 million manufacturing jobs in the United States (Mishel, Bernstein, & Shierholz, 2009). Mishel, L., Bernstein, J., & Shierholz, H. (2009). The state of working America 2008/2009. Ithaca, NY: ILR Press [An imprint of Cornell University Press].
A related problem is outsourcing, in which U.S. companies hire workers overseas for customer care, billing services, and other jobs that Americans used to do. China, India, and the Philippines, which have skilled workforces relatively fluent in English, are the primary nations to which U.S. companies outsource their work. At least 4 million jobs are estimated to have been transferred to these nations from the United States and other Western countries (Thomas, 2009). Thomas, M. (2009, July 16). Outsourcing statistics: What figures will tell you. EzineArticles. Retrieved from http://ezinearticles.com/?Outsourcing-Statistics---What-Figures-Will-Tell-You&id=2621948 Many call centers employ workers in India, and when you call up a computer company or some other business for technical help, you might very well talk with an Indian. Because these call centers have cost Americans jobs and also because Americans and Indians often have trouble understanding each other's accents, outsourcing has been very controversial in the decade since it became popular.
All these problems reflect a more general shift in the United States from goods-producing jobs to service jobs. Although some of these service jobs, such as many in the financial and computer industries, are high paying, many are in low-wage occupations, such as restaurant and clerical work, that pay less than the goods-producing jobs they replaced. Partly as a result, the average hourly wage (in 2007 dollars) in the United States for workers (excluding managers and supervisors) rose only from $16.88 in 1979 to $17.42 in 2007. This change represented an increase of just 0.1% per year during that three-decade span (Mishel, Bernstein, & Shierholz, 2009). Mishel, L., Bernstein, J., & Shierholz, H. (2009). The state of working America 2008/2009. Ithaca, NY: ILR Press [An imprint of Cornell University Press].
These wage figures mask an important gender difference. Men's median hourly wages dropped (in 2007 dollars) by 4.4% from 1979 to 2007, while women's wages rose by 24.4% (while still remaining $3.11 less per hour than men's wages in 2007) (Mishel, Bernstein, & Shierholz, 2009). Mishel, L., Bernstein, J., & Shierholz, H. (2009). The state of working America 2008/2009. Ithaca, NY: ILR Press [An imprint of Cornell University Press]. Although women have been catching up to men in wages, some of this catching up is due to the decline in male wages.
Wage changes in recent years also depend on what social class someone is in. While the average compensation of chief executive officers (CEOs) of large corporations grew by 167% from 1989 to 2007, the average compensation of the typical worker grew by only 10%. Another way of understanding this disparity is perhaps more striking. In 1965, CEOs earned 24 times more than the typical worker; in 2007 they earned 275 times more than the typical worker (Mishel, Bernstein, & Shierholz, 2009). Mishel, L., Bernstein, J., & Shierholz, H. (2009). The state of working America 2008/2009. Ithaca, NY: ILR Press [An imprint of Cornell University Press].
When people lose their jobs during a recession or in a changing job market, it takes longer to find a new one, if they can find one at all. If they do, it is often at a much lower wage or not full time. This can force people into poverty. In the United States, we tend to have what is called relative poverty, defined as being unable to live the lifestyle of the average person in your country. This must be contrasted with the absolute poverty that can be found in underdeveloped countries, defined as being barely able, or unable, to afford basic necessities such as food (Byrns 2011).
We cannot even rely on unemployment statistics to provide a clear picture of total unemployment in the United States. First, unemployment statistics do not take into account underemployment, a state in which a person accepts a lower-paying, lower-status job than their education and experience qualifies them to perform. Second, unemployment statistics only count those:
who are actively looking for work
who have not earned income from a job in the past four weeks
who are ready, willing, and able to work
The unemployment statistics provided by the U.S. government are rarely accurate because many of the unemployed become discouraged and stop looking for work. Not only that, but these statistics undercount the youngest and oldest workers, the chronically unemployed (e.g., homeless), and seasonal and migrant workers.
A certain amount of unemployment is a direct result of the relative inflexibility of the labor market, considered structural unemployment, which describes when there is a societal level of disjuncture between people seeking jobs and the available jobs. This mismatch can be geographic (they are hiring in California, but most unemployed live in Alabama), technological (skilled workers are replaced by machines, as in the auto industry), or can result from any sudden change in the types of jobs people are seeking versus the types of companies that are hiring.
Because of the high standard of living in the United States, many people are working at full-time jobs but are still poor by the standards of relative poverty. They are the working poor. The United States has a higher percentage of working poor than many other developed countries (Brady, Fullerton and Cross 2010). In terms of employment, the Bureau of Labor Statistics defines the working poor as those who have spent at least 27 weeks working or looking for work, and yet remain below the poverty line. Many of the facts about the working poor are as expected: Those who work only part-time are more likely to be classified as working poor than those with full-time employment; higher levels of education lead to less likelihood of being among the working poor; those with children under 18 are four times more likely than those without children to fall into this category. In 2009, the working poor included 10.4 million Americans, up almost 17 percent from 2008 (U.S. Bureau of Labor Statistics 2011).
The U.S. Labor Force
The civilian labor force consists of all noninstitutionalized civilians 16 years of age or older who work for pay or are looking for work. The civilian labor force (hereafter labor force) consists of about 154 million people, or almost two-thirds of the population, including about 72% of men and 59% of women (Bureau of Labor Statistics, 2009).Bureau of Labor Statistics. (2009). Employment and earnings online. Washington, DC: Bureau of Labor Statistics, U.S. Department of Labor. Retrieved from http://www.bls.gov/opub/ee/home.htm Chapter 11 "Gender and Gender Inequality" noted that women's labor force participation soared during the last few decades. This general increase is even steeper for married women with children under 6 years of age: in 2007 almost 62% of such women were in the labor force, compared to less than 19% in 1960 (U.S. Census Bureau, 2010),U.S. Census Bureau. (2009). Statistical abstract of the United States: 2009. Washington, DC: U.S. Government Printing Office. Retrieved from www.census.gov/compendia/statab a threefold difference (see Figure 7.2.3).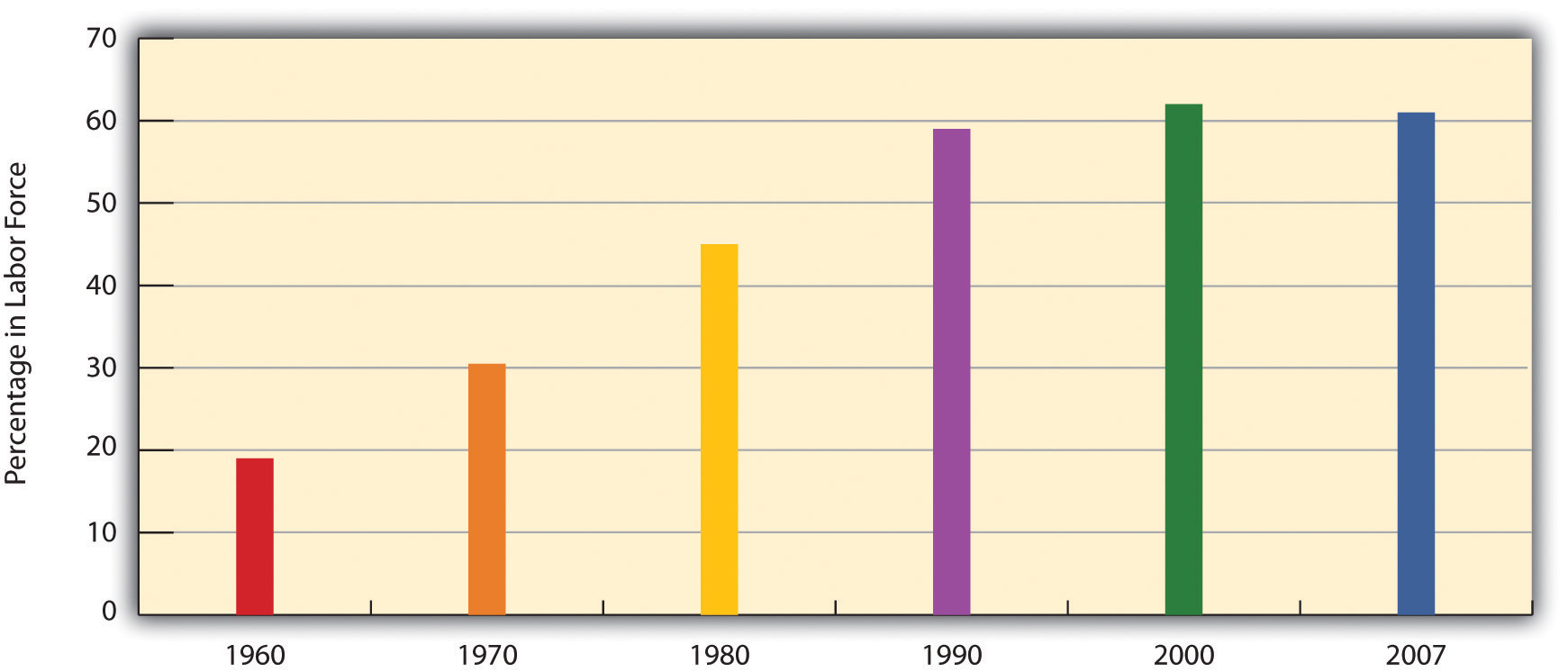 Labor Force Participation Rate, Percentage of Married Women with Children Younger Than 6 Years of Age, 1960–2007 (Source: Data from U.S. Census Bureau. (2010). Statistical abstract of the United States: 2010. Washington, DC: U.S. Government Printing Office. Retrieved from www.census.gov/compendia/statab.)
Occupations
www.dol.gov/wb/images/chart_17mv.png
www.dol.gov/wb/stats/idoccupations.htm
www.dol.gov/wb/stats/idoccupations.htm
www.dol.gov/wb/images/25_highestpay_occ_median_earnings_14.png
Unemployment
Unemployment is a fact of life. There will always be people laid off or fired, who voluntarily quit their jobs, or who just graduated school and are still looking for work. But most unemployed people are involuntarily unemployed, and for them the financial and psychological consequences can be devastating.
Unemployment rates rise and fall with the economy, and the national unemployment rate was as high as 10.2% in October 2009 amid the Great Recession that began almost two years earlier; it was still 9.8% in November 2010, amounting to some 15.1 million people. But whether unemployment is high or low, it always varies by race and ethnicity, with African American and Latino unemployment rates higher than the white rate (see Figure 7.2.4). Unemployment is also higher for younger people than for older people. In June 2010, 25.7% of all teenagers in the labor force (aged 16–19) were unemployed, a figure almost three times higher than that for adults. The unemployment rate for African Americans in this age group was a very high 39.9%, considerably greater than the 23.2% figure for whites in this age group (Bureau of Labor Statistics, 2010).Bureau of Labor Statistics. (2010). Employment and earnings online. Washington, DC: Bureau of Labor Statistics, U.S. Department of Labor. Retrieved from http://www.bls.gov/opub/ee/home.htm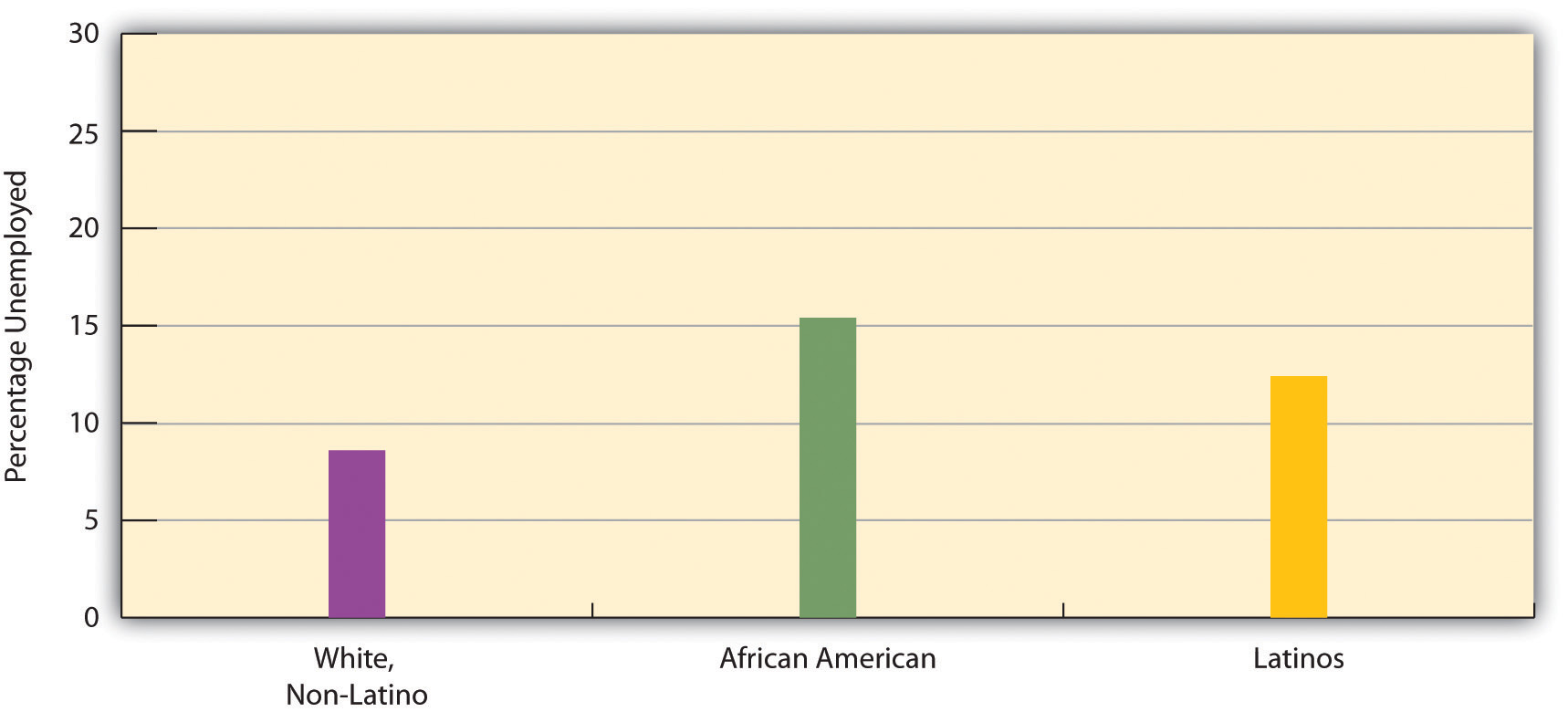 Unemployment figures are misleading in an important respect, as they do not include people who are underemployed. Underemployment includes unemployed and also two other types of people: (a) those who are working part time but who want to work full time and (b) those who have stopped looking for work because they have not been able to find a job. Many economists think that underemployment provides a more accurate measure than unemployment of the number of people with employment problems. For example, in June 2010, when the unemployment rate was 9.5% and 14.6 million people were officially unemployed, the underemployment rate was 16.5%, equal to more than 25 million people. Reflecting the racial/ethnic disparity in unemployment, 23.2% of Latino workers and 23.5% of African American workers were underemployed, compared to only 13.8% of white workers (Economic Policy Institute, 2010).Economic Policy Institute. (2010). Economy track. Retrieved from www.economytrack.org/underemployment.php Reflecting on the great amount of underemployment during the Great Recession, one economist commented, "When you combine the long-term unemployed with those who are dropping out and those who are working part time because they can't find anything else, it is just far beyond anything we've seen in the job market since the 1930s" (Herbert 2010, p. A25).Herbert, B. (2010, August 10). The horror show. The New York Times, p. A25.
Unemployment rises when the economy falters and that race and ethnicity affect the probability of being unemployed. These two facts provide evidence supporting the sociological imagination. As C. Wright Mills (1959)Mills, C. W. (1959). The sociological imagination. London, England: Oxford University Press. emphasized in his original discussion of this concept, unemployment is best viewed more as a public issue than as a personal trouble. When so many people are unemployed during an economic recession and when there is such striking evidence of higher unemployment rates among the persons of color who have the least opportunity for the education and training needed to obtain and keep a job, it is evident that high unemployment rates reflect a public issue rather than just a collection of public troubles.
The Impact of Unemployment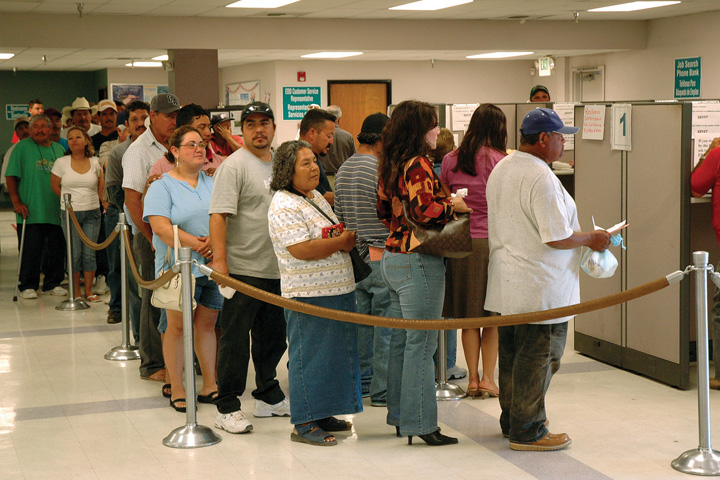 Although the news article that began this chapter gave us a heartrending account of a woman experiencing long-term unemployment, survey data also provide harsh evidence of the social and psychological effects of being unemployed. In July 2010, the Pew Research Center issued a report based on a survey of 810 adults who were currently unemployed or had been unemployed since the Great Recession began in December 2007 and 1,093 people who had never been unemployed during the recession (Morin & Kochhar, 2010).Morin, R. and Kochhar, R. (2010). Lost income, lost friends—and loss of self-respect: The impact of long-term unemployment. Washington, DC: Pew Research Center. The report's title, Lost Income, Lost Friends—and Loss of Self-Respect, summarized its major findings. Of those who had been unemployed for at least 6 months (long-term unemployment), 44% said that the recession had caused "major changes" in their lives, versus only 20% of those who had never been unemployed. More than half of the long-term unemployed said their family income had declined, and more than 40% said that their family relations had been strained and that they had lost contact with close friends. In another finding, 38% said they had "lost some self-respect" from being unemployed. One-third said they were finding it difficult to pay their rent or mortage, compared to only 16% of those who had never been unemployed during the recession. Half had borrowed money from family or friends to pay bills, versus only 18% of the never unemployed. Of all the people who had been unemployed, almost half had experienced sleep difficulties, and 5% had experienced drug or alcohol problems. All these numbers paint a distressing picture of the social and psychological impact of unemployment during the Great Recession that began in late 2007.
Job Satisfaction
Recall that Karl Marx thought that job alienation was a major problem in industrial societies. Following up on his concern, social scientists have tried to determine the extent of worker alienation and job satisfaction, as well as the correlates of these two attitudes (Bockerman & Ilmakunnas, 2009). Bockerman, P., & Ilmakunnas, P. (2009). Job disamenities, job satisfaction, quit intentions, and actual separations: Putting the pieces together. Industrial Relations, 48(1), 73–96. They generally find that American workers like their jobs much more than Marx anticipated, but also that the extent to which they like their jobs depends on the income their jobs bring, the degree of autonomy they enjoy in their jobs, and other factors.
One way of measuring job satisfaction is simply to ask people, "On the whole, how satisfied are you with the work you do?" The General Social Survey uses precisely this question, and 85.8% of respondents (2008 data) say they are satisfied with their jobs, with only 14.1% saying they are dissatisfied. This latter figure is probably lower than Marx would have predicted for a capitalist society like the United States.
One possible reason for the low amount of job dissatisfaction, and one that Marx did not foresee, is that workers develop friendships in their workplace (McGuire, 2007).McGuire, G. M. (2007). Intimate work: A typology of the social support that workers provide to their network members. Work and Occupations, 34, 125–147. Coworkers discuss all kinds of topics with each other, including personal matters, sports, and political affairs, and they often will invite other coworkers over to their homes or go out with them to a movie or a restaurant. Such friendships can lead workers to like their jobs more than they otherwise would and help overcome the alienation they would feel without the friendships. Such coworker friendships are quite common, as research finds that about half of all workers have at least one close friend who is a coworker (Marks, 1994). Marks, S. R. (1994). Intimacy in the public realm: The case of co-workers. Social Forces, 72, 843–858.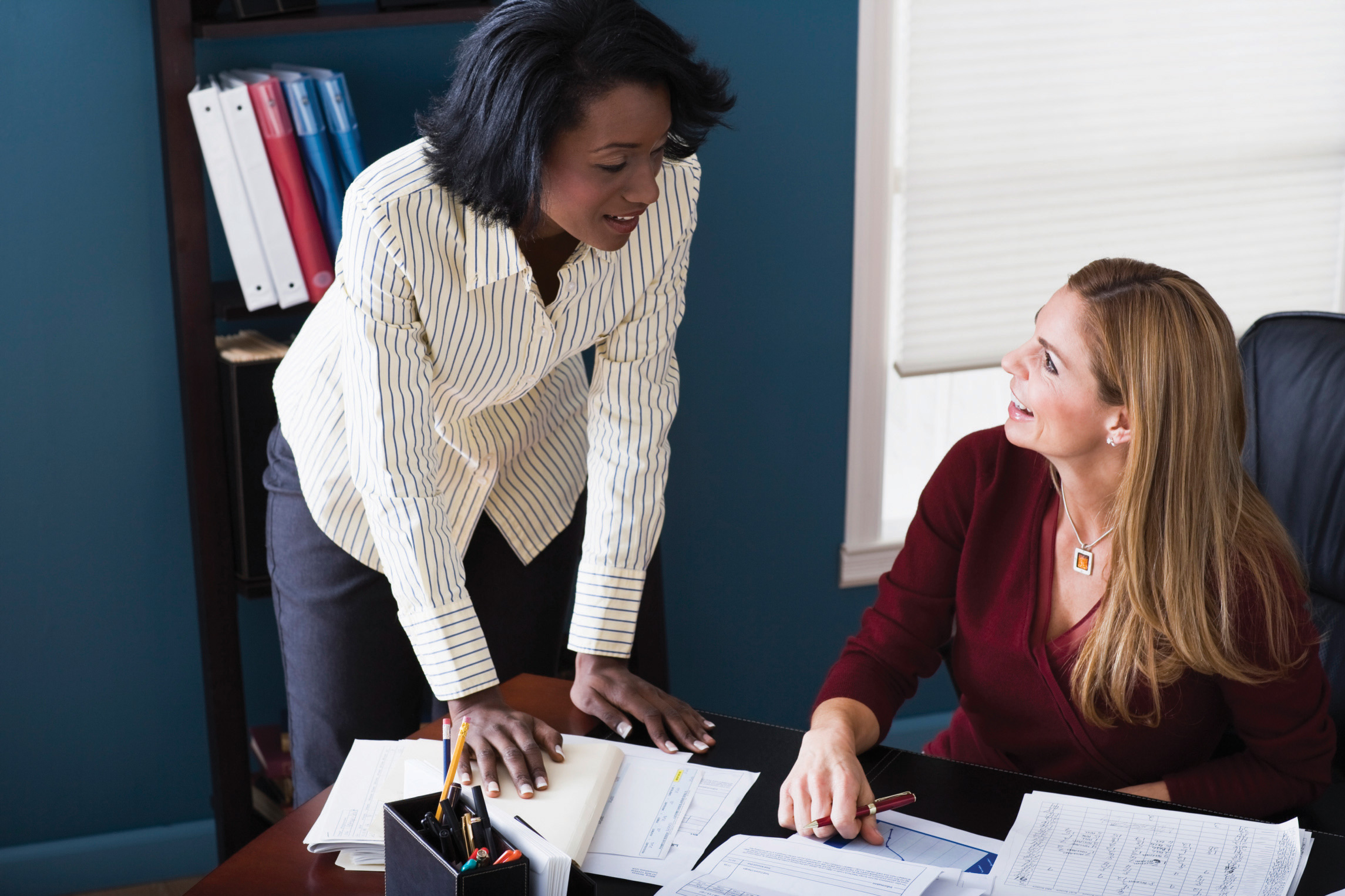 Key Takeaways
Conflict between labor and management was intense in the United States after the advent of industrialization. Strikes and labor-related violence were common after the Civil War.
The move to a postindustrial economy has resulted in a loss of jobs in the United States, thanks in part to capital flight and outsourcing.
Job satisfaction is higher and worker alienation lower than what Karl Marx would have predicted for the United States, thanks in part to workplace friendships.
Unemployment has soared because of the Great Recession that began in late 2007. Joblessness has significant consequences for the financial and psychological well-being of the millions of people who are unemployed.
Two significant problems in the workplace are employee theft and workplace violence. Both problems are common and together have serious repercussions for the financial health of businesses and the physical health of employees, respectively.