10.1: Race, Ethnicity, and the Social Structure
Last updated
Page ID

3419
\( \newcommand{\vecs}[1]{\overset { \scriptstyle \rightharpoonup} {\mathbf{#1}} } \) \( \newcommand{\vecd}[1]{\overset{-\!-\!\rightharpoonup}{\vphantom{a}\smash {#1}}} \)\(\newcommand{\id}{\mathrm{id}}\) \( \newcommand{\Span}{\mathrm{span}}\) \( \newcommand{\kernel}{\mathrm{null}\,}\) \( \newcommand{\range}{\mathrm{range}\,}\) \( \newcommand{\RealPart}{\mathrm{Re}}\) \( \newcommand{\ImaginaryPart}{\mathrm{Im}}\) \( \newcommand{\Argument}{\mathrm{Arg}}\) \( \newcommand{\norm}[1]{\| #1 \|}\) \( \newcommand{\inner}[2]{\langle #1, #2 \rangle}\) \( \newcommand{\Span}{\mathrm{span}}\) \(\newcommand{\id}{\mathrm{id}}\) \( \newcommand{\Span}{\mathrm{span}}\) \( \newcommand{\kernel}{\mathrm{null}\,}\) \( \newcommand{\range}{\mathrm{range}\,}\) \( \newcommand{\RealPart}{\mathrm{Re}}\) \( \newcommand{\ImaginaryPart}{\mathrm{Im}}\) \( \newcommand{\Argument}{\mathrm{Arg}}\) \( \newcommand{\norm}[1]{\| #1 \|}\) \( \newcommand{\inner}[2]{\langle #1, #2 \rangle}\) \( \newcommand{\Span}{\mathrm{span}}\)\(\newcommand{\AA}{\unicode[.8,0]{x212B}}\)
Objectives
Analyze the nature by which sociologists define race, ethnicity, and minority group.
Describe the characteristics that distinguish one minority group from another.
Explain how race and ethnicity play a role in the American society.
Universal Generalizations
American society consists of people from different cultural backgrounds.
Resources and rewards found in society are limited.
Socioeconomic class affects every aspect of a person's life in the United States.
Guiding Questions
In what ways does socioeconomic status affect your life?
What is the difference between race and ethnicity?
What role does race and ethnicity play in our society?
Explain the characteristics that distinguish minority groups from other groups in society.
Race, Ethnicity, and the Social Structure
While many students first entering a sociology classroom are accustomed to conflating the terms "race," "ethnicity," and "minority group," these three terms have distinct meanings for sociologists. The idea of race refers to superficial physical differences that a particular society considers significant, while ethnicity is a term that describes shared culture. And minority groups describe groups that are subordinate, or lacking power in society regardless of skin color or country of origin. For example, in modern U.S. history, the elderly might be considered a minority group due to a diminished status resulting from popular prejudice and discrimination against them. The World Health Organization's research on elderly maltreatment shows that 10 percent of nursing home staff admit to physically abusing an elderly person in the past year, and 40 percent admit to psychological abuse (2011). As a minority group, the elderly are also subject to economic, social, and workplace discrimination.
What is Race?
Race refers to a category of people who share certain inherited physical characteristics, such as skin color, facial features, and stature. A key question about race is whether it is more of a biological category or a social category. Most people think of race in biological terms, and for more than 300 years, or ever since white Europeans began colonizing populations of color elsewhere in the world, race has indeed served as the "premier source of human identity" (Smedley, 1998, p. 690). Smedley, A. (1998). "Race" and the construction of human identity. American Anthropologist, 100, 690–702.
Historically, the concept of race has changed across cultures and eras, eventually becoming less connected with ancestral and familial ties, and more concerned with superficial physical characteristics. In the past, theorists have posited categories of race-based on various geographic regions, ethnicities, skin colors, and more. Their labels for racial groups have connoted regions (Mongolia and the Caucus Mountains, for instance) or denoted skin tones (black, white, yellow, and red, for example).
However, this typology of race developed during early racial science has fallen into disuse, and the social construction of race is a far more common way of understanding racial categories. According to this school of thought, race is not biologically identifiable. When considering skin color, for example, the social construction of race perspective recognizes that the relative darkness or fairness of skin is an evolutionary adaptation to the available sunlight in different regions of the world. Contemporary conceptions of race, therefore, which tend to be based on socioeconomic assumptions, illuminate how far removed modern race understanding is from biological qualities. In modern society, some people who consider themselves "white" actually have more melanin (a pigment that determines skin color) in their skin than other people who identify as "black." Consider the case of actress Rashida Jones. She is the daughter of a black man (Quincy Jones) but she does not play a black woman in her television or film roles. In some countries, such as Brazil, class is more important than skin color in determining racial categorization. People with high levels of melanin in their skin may consider themselves "white" if they enjoy a middle-class lifestyle. On the other hand, someone with low levels of melanin in their skin might be assigned the identity of "black" if they have little education or money.
Even if we acknowledge that people differ in the physical characteristics we associate with race, modern evolutionary evidence reminds us that we are all, really, of one human race. According to evolutionary theory, the human race began thousands and thousands of years ago in sub-Saharan Africa. As people migrated around the world over the millennia, natural selection took over. It favored dark skin for people living in hot, sunny climates (i.e., near the equator) because the heavy amounts of melanin that produce dark skin protect against severe sunburn, cancer, and other problems. By the same token, natural selection favored light skin for people who migrated farther from the equator to cooler, less sunny climates, because dark skins there would have interfered with the production of vitamin D (Stone & Lurquin, 2007). Stone, L., & Lurquin, P. F. (2007). Genes, culture, and human evolution: A synthesis. Malden, MA: Blackwell. Evolutionary evidence thus reinforces the common humanity of people who differ in the rather superficial ways associated with their appearances: we are one human species composed of people who happen to look different.
The social construction of race is also reflected in the way that names for racial categories change with changing times. It's worth noting that race, in this sense, is also a system of labeling that provides a source of identity; specific labels fall in and out of favor during different social eras. For example, the category "negroid," popular in the 19th century, evolved into the term "negro" by the 1960s, and then this term fell from use and was replaced with "African American." This latter term was intended to celebrate the multiple identities that a black person might hold, but the word choice is a poor one: it lumps together a large variety of ethnic groups under an umbrella term while excluding others who could accurately be described by the label but who do not meet the spirit of the term. For example, actress Charlize Theron is a blonde-haired, blue-eyed "African American." She was born in South Africa and later became a U.S. citizen. Is her identity that of an "African American" as most of us understand the term?
http://cnx.org/contents/afe4332a-c97f-4fc4-be27-4e4d384a32d8@7.20:48/Introduction-to-Sociology
What is Ethnicity?
Ethnicity is a term that describes shared culture—the practices, values, and beliefs of a group. This might include shared language, religion, and traditions, among other commonalities. Like race, the term ethnicity is difficult to describe and its meaning has changed over time. And like race, individuals may be identified or self-identify to ethnicities in complex, even contradictory, ways. For example, ethnic groups such as Irish, Italian American, Russian, Jewish, and Serbian might all be groups whose members are predominantly included in the racial category "white." Conversely, the ethnic group British includes citizens from a multiplicity of racial backgrounds: black, white, Asian, and more, plus a variety of race combinations. These examples illustrate the complexity and overlap of these identifying terms. Ethnicity, like race, continues to be an identification method that individuals and institutions use today—whether through the census, affirmative action initiatives, non-discrimination laws, or simply in personal day-to-day relations.
Because of the problems in the meaning of race, many social scientists prefer the term ethnicity in speaking of people of color and others with distinctive cultural heritages. In this context, ethnicity refers to the shared social, cultural, and historical experiences, stemming from common national or regional backgrounds, that make subgroups of a population different from one another. Similarly, an ethnic group is a subgroup of a population with a set of shared social, cultural, and historical experiences; with relatively distinctive beliefs, values, and behaviors; and with some sense of identity of belonging to the subgroup. So conceived, the terms ethnicity and ethnic group avoid the biological connotations of the terms race and racial group and the biological differences these terms imply. At the same time, the importance we attach to ethnicity illustrates that it, too, is in many ways a social construction, and our ethnic membership thus has important consequences for how we are treated.
The sense of identity many people gain from belonging to an ethnic group is important for reasons both good and bad. Because one of the most important functions of groups is the identity they give us, ethnic identities can give individuals a sense of belonging and a recognition of the importance of their cultural backgrounds. This sense of belonging is illustrated in Figure 10.1.2 "Responses to "How Close Do You Feel to Your Ethnic or Racial Group?"", which depicts the answers of General Social Survey respondents to the question, "How close do you feel to your ethnic or racial group?" More than three-fourths said they feel close or very close. The term ethnic pride captures the sense of self-worth that many people derive from their ethnic backgrounds. More generally, if group membership is important for many ways in which members of the group are socialized, ethnicity certainly plays an important role in the socialization of millions of people in the United States and elsewhere in the world today.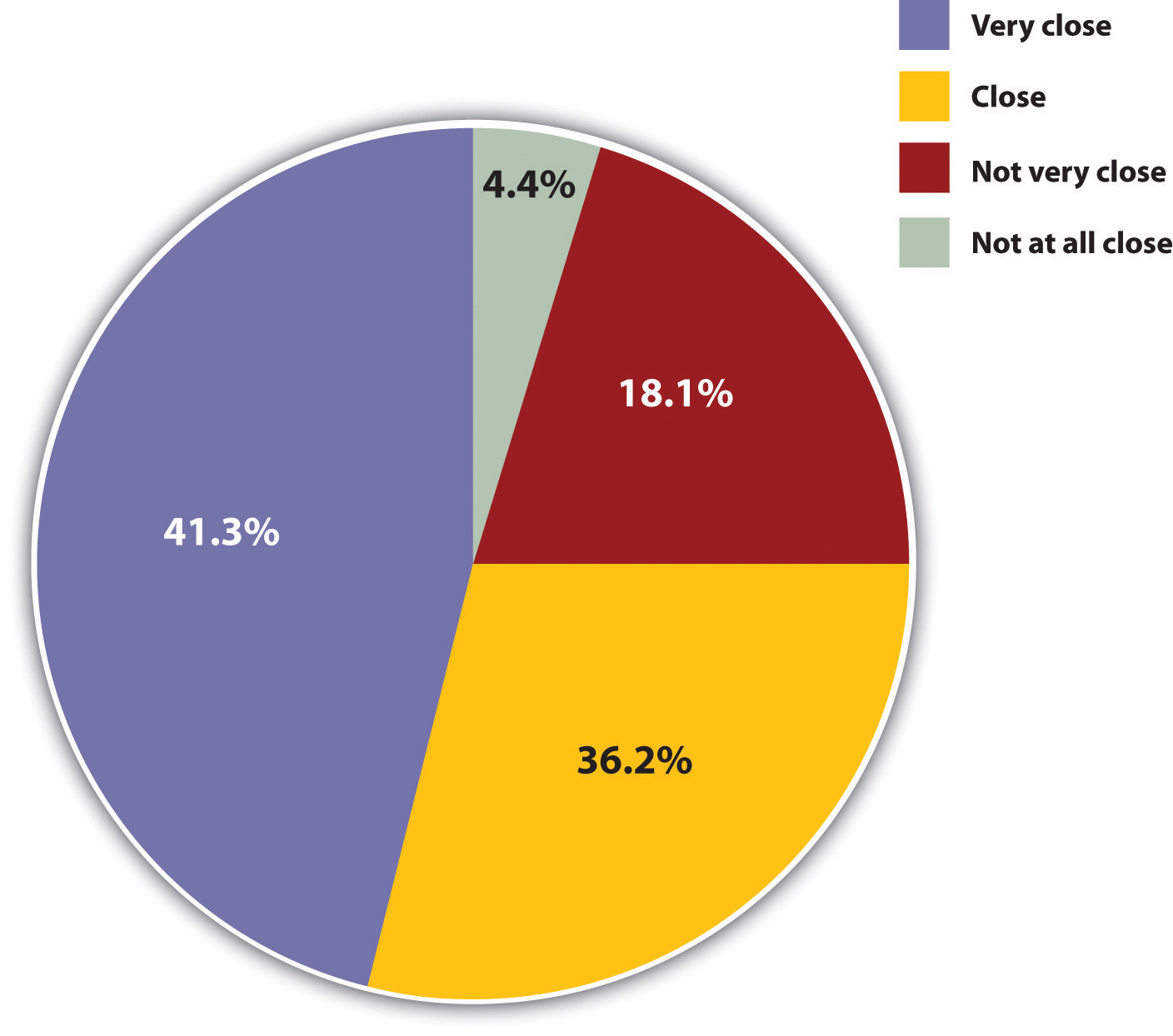 A downside of ethnicity and ethnic group membership is the conflict they create among people of different ethnic groups. History and current practice indicate that it is easy to become prejudiced against people with different ethnicities from our own. Much of the rest of this chapter looks at the prejudice and discrimination operating today in the United States against people whose ethnicity is not white and European. Around the world today, ethnic conflict continues to rear its ugly head. The 1990s and 2000s were filled with "ethnic cleansing" and pitched battles among ethnic groups in Eastern Europe, Africa, and elsewhere. Our ethnic heritages shape us in many ways and fill many of us with pride, but they also are the source of much conflict, prejudice, and even hatred, as the hate crime story that began this chapter so sadly reminds us.
What are Ethnic Groups?
Sociologist Louis Wirth (1945) defined a minority group as "any group of people who, because of their physical or cultural characteristics, are singled out from the others in the society in which they live for differential and unequal treatment, and who therefore regard themselves as objects of collective discrimination." The term minority connotes discrimination, and in its sociological use, the term subordinate can be used interchangeably with the term minority, while the term dominant is often substituted for the group that's in the majority. These definitions correlate to the concept that the dominant group is that which holds the most power in a given society, while subordinate groups are those who lack power compared to the dominant group.
Note that being a numerical minority is not a characteristic of being a minority group; sometimes larger groups can be considered minority groups due to their lack of power. It is the lack of power that is the predominant characteristic of a minority, or subordinate group. For example, consider Apartheid in South Africa, in which a numerical majority (the black inhabitants of the country) were exploited and oppressed by the white minority.
According to Charles Wagley and Marvin Harris (1958), a minority group is distinguished by five characteristics: (1) unequal treatment and less power over their lives, (2) distinguishing physical or cultural traits like skin color or language, (3) involuntary membership in the group, (4) awareness of subordination, and (5) high rate of in-group marriage. Additional examples of minority groups might include the LBGT community, religious practitioners whose faith is not widely practiced where they live, and people with disabilities.
Scapegoat theory, developed initially from Dollard's (1939) Frustration-Aggression theory, suggests that the dominant group will displace their unfocused aggression onto a subordinate group. History has shown us many examples of the scapegoating of a subordinate group. An example from the last century is the way that Adolf Hitler was able to use the Jewish people as scapegoats for Germany's social and economic problems. In the United States, recent immigrants have frequently been the scapegoat for the nation's—or an individual's—woes. Many states have enacted laws to disenfranchise immigrants; these laws are popular because they let the dominant group scapegoat a subordinate group.
The six basic characteristics of minority groups are as follows:
Physical and cultural traits-- Members of a minority group share some physical and cultural characteristics that distinguish them from the dominant (majority) group. Each society has its arbitrary standards for determining which characteristics are most important in defining dominant and minority group. Physical characteristics such as skin color are commonly called racial. Cultural (ethnic) distinctions are rarely neutral and commonly associated with antagonism between groups.
Unequal treatment Members of a minority group experience unequal treatment. They are usually physically and socially isolated from the dominant (majority) community. For example, the management of a community hostel or an apartment complex (or building) may refuse to rent members of a minority community. For example, in India, it is often accused that the members of minority groups (Muslims or Christians) are refused accommodation—renting or selling flats in the buildings managed or owned by the members of dominant group. Not only this, in villages and small towns, it is seen that the members of minority groups are forced to live in separate geographical localities. Physical segregation ultimately leads to social segregation.
Ascribed status Membership in a dominant (or minority) group is not voluntary. People are born into the group. Thus, race, gender, ethnicity and religion are considered ascribed statuses.
Solidarity Membership in a dominant (or minority) group is not voluntary. People are born into the group. Thus, race, gender, ethnicity and religion are considered ascribed statuses.
In-group marriage Members of a minority group generally marry within their own group in order to keep alive their cultural distinctiveness and to maintain group solidarity. Parsis, in India, and members of other minority groups (Muslims or Christians) seldom marry in other groups.
Subordination The minority is subordinate to the dominant (majority) in the distribution of power and privileges in a society. This is the key characteristic of a minority group. The members of minority groups have relatively low power, prestige and economic position in a society's system of social stratification. Not only this, they have to observe the norms, values, cultural patterns and laws of the majority (dominant) group.
http://www.yourarticlelibrary.com/sociology/6-basic-characteristics-of-minority-groups/31419/