11.1: Gender
Last updated
Page ID

3445
\( \newcommand{\vecs}[1]{\overset { \scriptstyle \rightharpoonup} {\mathbf{#1}} } \) \( \newcommand{\vecd}[1]{\overset{-\!-\!\rightharpoonup}{\vphantom{a}\smash {#1}}} \)\(\newcommand{\id}{\mathrm{id}}\) \( \newcommand{\Span}{\mathrm{span}}\) \( \newcommand{\kernel}{\mathrm{null}\,}\) \( \newcommand{\range}{\mathrm{range}\,}\) \( \newcommand{\RealPart}{\mathrm{Re}}\) \( \newcommand{\ImaginaryPart}{\mathrm{Im}}\) \( \newcommand{\Argument}{\mathrm{Arg}}\) \( \newcommand{\norm}[1]{\| #1 \|}\) \( \newcommand{\inner}[2]{\langle #1, #2 \rangle}\) \( \newcommand{\Span}{\mathrm{span}}\) \(\newcommand{\id}{\mathrm{id}}\) \( \newcommand{\Span}{\mathrm{span}}\) \( \newcommand{\kernel}{\mathrm{null}\,}\) \( \newcommand{\range}{\mathrm{range}\,}\) \( \newcommand{\RealPart}{\mathrm{Re}}\) \( \newcommand{\ImaginaryPart}{\mathrm{Im}}\) \( \newcommand{\Argument}{\mathrm{Arg}}\) \( \newcommand{\norm}[1]{\| #1 \|}\) \( \newcommand{\inner}[2]{\langle #1, #2 \rangle}\) \( \newcommand{\Span}{\mathrm{span}}\)\(\newcommand{\AA}{\unicode[.8,0]{x212B}}\)
Objectives
Analyze how gender roles affect the opportunities accessible to men and women in society.
Explain how gender roles are affected by socialization.
Universal Generalizations
All societies have norms governing how men and women should act.
Gender roles are specific behaviors and attitudes that are established by all societies.
Gender has a significant effect on the roles that men and women play.
Social status influences a person's health and health care he or she receives.
Gender and not biology determines the majority of the roles men and women play in society.
Individuals learn appropriate gender-role behavior through socialization.
In the United States, a person's gender role is often reinforced at birth.
Gender roles are both different and unequal.
Guiding Questions
How have traditional roles for women and men changed in the past several decades.
How have expectations of women in the workplace changed over time?
How are boys and girls socialized to accept certain gender roles?
Does gender influence social inequality in the United States?
Why is there still a wage gap between men and women in the workplace?
Should women be viewed any different than men in their abilities to achieve a goal?
Gender Roles and Identity
When filling out a document such as a job application or school registration form you are often asked to provide your name, address, phone number, birth date, and sex or gender. But have you ever been asked to provide your sex and your gender? As with most people, it may not have occurred to you that sex and gender are not the same. However, sociologists and most other social scientists view sex and gender as conceptually distinct. Sex refers to physical or physiological differences between males and females, including both primary sex characteristics (the reproductive system) and secondary characteristics such as height and muscularity. Gender is a term that refers to social or cultural distinctions associated with being male or female. Gender identity is the extent to which one identifies as being either masculine or feminine (Diamond 2002).
A person's sex, as determined by his or her biology, does not always correspond with his or her gender. Therefore, the terms sexand gender are not interchangeable. A baby boy who is born with male genitalia will be identified as male. As he grows, however, he may identify with the feminine aspects of his culture. Since the term sex refers to biological or physical distinctions, characteristics of sex will not vary significantly between different human societies. For example, all persons of the female sex, in general, regardless of culture, will eventually menstruate and develop breasts that can lactate. Characteristics of gender, on the other hand, may vary greatly between different societies. For example, in American culture, it is considered feminine (or a trait of the female gender) to wear a dress or skirt. However, in many Middle Eastern, Asian, and African cultures, dresses or skirts (often referred to as sarongs, robes, or gowns) can be considered masculine. The kilt worn by a Scottish male does not make him appear feminine in his culture.
The dichotomous view of gender (the notion that one is either male or female) is specific to certain cultures and is not universal. In some cultures gender is viewed as fluid. In the past, some anthropologists used the term berdache to refer to individuals who occasionally or permanently dressed and lived as the opposite gender. The practice has been noted among certain Native American tribes (Jacobs, Thomas, and Lang 1997). Samoan culture accepts what they refer to as a "third gender." Fa'afafine, which translates as "the way of the woman," is a term used to describe individuals who are born biologically male but embody both masculine and feminine traits. Fa'afafines are considered an important part of Samoan culture. Individuals from other cultures may mislabel them as homosexuals because fa'afafines have a varied sexual life that may include men or women (Poasa 1992).
The Legalese of Sex and Gender
The terms sex and gender have not always been differentiated in the English language. It was not until the 1950s that American and British psychologists and other professionals working with intersex and transsexual patients formally began distinguishing between sex and gender. Since then, psychological and physiological professionals have increasingly used the term gender (Moi 2005). By the end of the 21st century, expanding the proper usage of the term gender to everyday language became more challenging—particularly where legal language is concerned. In an effort to clarify usage of the termssex and gender, U.S. Supreme Court Justice Antonin Scalia wrote in a 1994 briefing, "The word gender has acquired the new and useful connotation of cultural or attitudinal characteristics (as opposed to physical characteristics) distinctive to the sexes. That is to say, gender is to sex as feminine is to female and masculine is to male" (J.E.B. v. Alabama, 144 S. Ct. 1436 [1994]). Supreme Court Justice Ruth Bader Ginsburg had a different take, however. Viewing the words as synonymous, she freely swapped them in her briefings so as to avoid having the word "sex" pop up too often. It is thought that her secretary supported this practice by suggestions to Ginsberg that "those nine men" (the other Supreme Court justices), "hear that word and their first association is not the way you want them to be thinking" (Case 1995). This anecdote reveals that even human experience that is assumed to be biological and personal (such as our self-perception and behavior) is actually a socially defined variable by culture.
Gender Roles
As we grow, we learn how to behave from those around us. In this socialization process, children are introduced to certain roles that are typically linked to their biological sex. The term gender role refers to society's concept of how men and women are expected to act and how they should behave. These roles are based on norms, or standards, created by society. In American culture, masculine roles are usually associated with strength, aggression, and dominance, while feminine roles are usually associated with passivity, nurturing, and subordination. Role learning starts with socialization at birth. Even today, our society is quick to outfit male infants in blue and girls in pink, even applying these color-coded gender labels while a baby is in the womb.
One way children learn gender roles is through play. Parents typically supply boys with trucks, toy guns, and superhero paraphernalia, which are active toys that promote motor skills, aggression, and solitary play. Daughters are often given dolls and dress-up apparel that foster nurturing, social proximity, and role play. Studies have shown that children will most likely choose to play with "gender appropriate" toys (or same-gender toys) even when cross-gender toys are available because parents give children positive feedback (in the form of praise, involvement, and physical closeness) for gender normative behavior (Caldera, Huston, and O'Brien 1998).
The drive to adhere to masculine and feminine gender roles continues later in life. Men tend to outnumber women in professions such as law enforcement, the military, and politics. Women tend to outnumber men in care-related occupations such as childcare, healthcare, and social work. These occupational roles are examples of typical American male and female behavior, derived from our culture's traditions. Adherence to them demonstrates fulfillment of social expectations but not necessarily personal preference (Diamond 2002).
Gender Identity
American society allows for some level of flexibility when it comes to acting out gender roles. To a certain extent, men can assume some feminine roles and women can assume some masculine roles without interfering with their gender identity. Gender identity is an individual's self-conception of being male or female based on his or her association with masculine or feminine gender roles.
Gender as a Social Construction
If sex is a biological concept, then gender is a social concept. It refers to the social and cultural differences a society assigns to people based on their (biological) sex. A related concept, gender roles, refers to a society's expectations of people's behavior and attitudes based on whether they are females or males. Understood in this way, gender, like race is a social construction. How we think and behave as females and males is not etched in stone by our biology but rather is a result of how society expects us to think and behave based on what sex we are. As we grow up, we learn these expectations as we develop our gender identity, or our beliefs about ourselves as females or males.
These expectations are called femininity and masculinity. Femininity refers to the cultural expectations we have of girls and women, while masculinity refers to the expectations we have of boys and men.
A familiar nursery rhyme nicely summarizes these two sets of traits:
What are little boys made of?
Snips and snails,
And puppy dog tails,
That's what little boys are made of.
What are little girls made of?
Sugar and spice,
And everything nice,
That's what little girls are made of.
As this nursery rhyme suggests, our traditional notions of femininity and masculinity indicate that we think females and males are fundamentally different from each other. In effect, we think of them as two sides of the same coin of being human. What we traditionally mean by femininity is captured in the adjectives, both positive and negative, we traditionally ascribe to women: gentle, sensitive, nurturing, delicate, graceful, cooperative, decorative, dependent, emotional, passive, and weak. Thus when we say that a girl or woman is very feminine, we have some combination of these traits, usually the positive ones, in mind: she is soft, dainty, pretty, even a bit flighty. What we traditionally mean by masculinity is captured in the adjectives, again both positive and negative, our society traditionally ascribes to men: strong, assertive, brave, active, independent, intelligent, competitive, insensitive, unemotional, and aggressive. When we say that a boy or man is very masculine, we have some combination of these traits in mind: he is tough, strong, and assertive.
These traits might sound like stereotypes of females and males in today's society, and to some extent they are, but differences between men and women in attitudes and behavior do in fact exist (Aulette, Wittner, & Blakeley, 2009).Aulette, J. R., Wittner, J., & Blakeley, K. (2009). Gendered worlds. New York, NY: Oxford University Press. For example, women cry more often than men do. Men are more physically violent than women. Women take care of children more than men do. Women smile more often than men. Men curse more often than women. When women talk with each other, they are more likely to talk about their personal lives than men are when they talk with each other (Tannen, 2001).Tannen, D. (2001). You just don't understand: Women and men in conversation. New York, NY: Quill.The two sexes even differ when they hold a cigarette (not that anyone should smoke). When a woman holds a cigarette, she usually has the palm of her cigarette-holding hand facing upward. When a man holds a cigarette, he usually has his palm facing downward.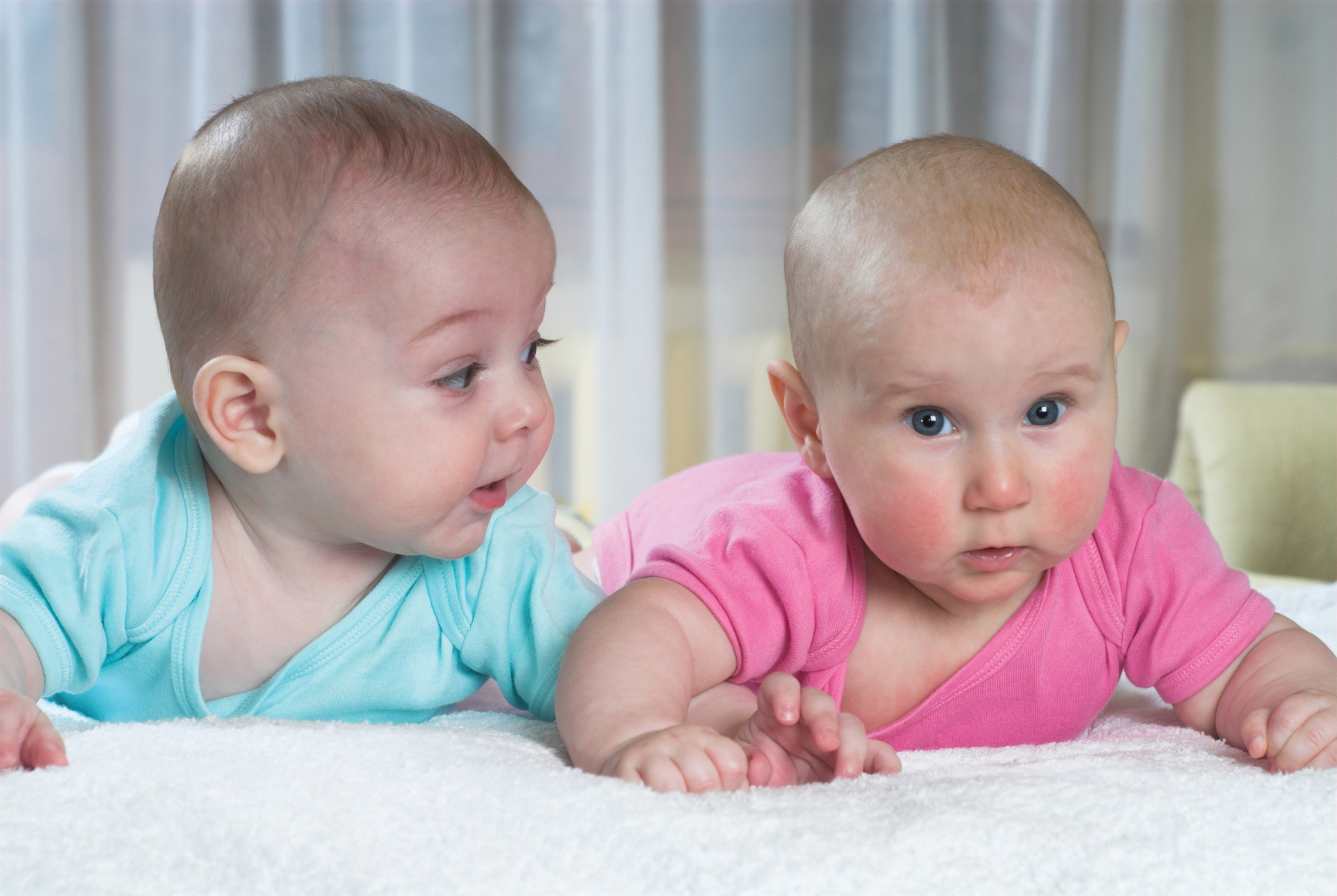 The Development of Gender Differences
What accounts for differences in female and male behavior and attitudes? Do the biological differences between the sexes account for other differences? Or do these latter differences stem, as most sociologists think, from cultural expectations and from differences in the ways in which the sexes are socialized? These are critical questions, for they ask whether the differences between boys and girls and women and men stem more from biology or from society. As Chapter 2 "Eye on Society: Doing Sociological Research" pointed out, biological explanations for human behavior implicitly support the status quo. If we think behavioral and other differences between the sexes are due primarily to their respective biological makeups, we are saying that these differences are inevitable or nearly so and that any attempt to change them goes against biology and will likely fail.
As an example, consider the obvious biological fact that women bear and nurse children and men do not. Couple this with the common view that women are also more gentle and nurturing than men, and we end up with a "biological recipe" for women to be the primary caretakers of children. Many people think this means women are therefore much better suited than men to take care of children once they are born, and that the family might be harmed if mothers work outside the home or if fathers are the primary caretakers. Figure 11.1.4 "Belief That Women Should Stay at Home" shows that more than one-third of the public agrees that "it is much better for everyone involved if the man is the achiever outside the home and the woman takes care of the home and family." To the extent this belief exists, women may not want to work outside the home or, if they choose to do so, they face difficulties from employers, family, and friends. Conversely, men may not even think about wanting to stay at home and may themselves face difficulties from employees, family, and friends if they want to do so. A belief in a strong biological basis for differences between women and men implies, then, that there is little we can or should do to change these differences. It implies that "anatomy is destiny," and destiny is, of course, by definition inevitable.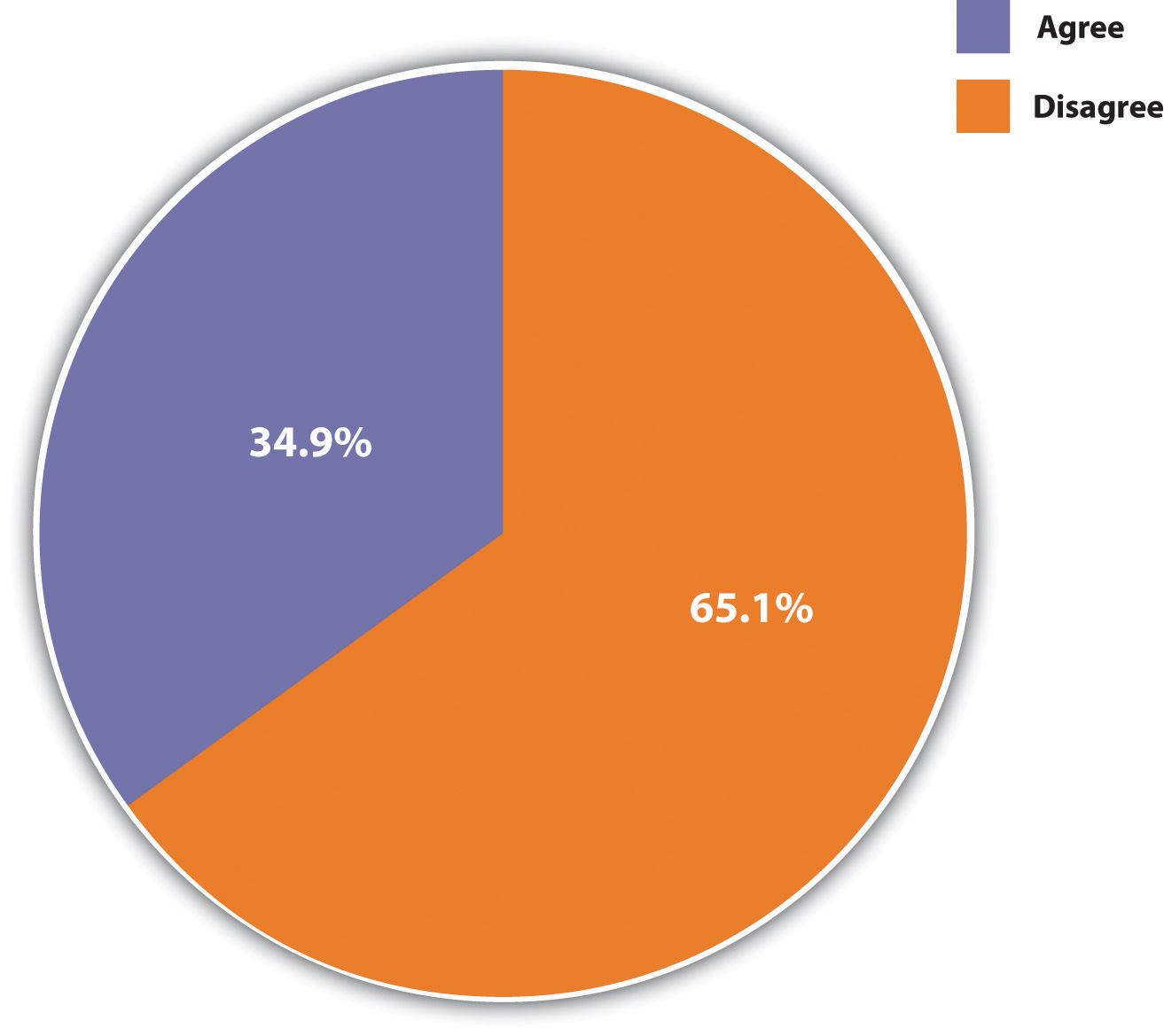 Gender and Socialization
The phrase "boys will be boys" is often used to justify behavior such as pushing, shoving, or other forms of aggression from young boys. The phrase implies that such behavior is unchangeable and something that is part of a boy's nature. Aggressive behavior, when it does not inflict significant harm, is often accepted from boys and men because it is congruent with the cultural script for masculinity. The "script" written by society is in some ways similar to a script written by a playwright. Just as a playwright expects actors to adhere to a prescribed script, society expects women and men to behave according to the expectations of their respective gender role. Scripts are generally learned through a process known as socialization, which teaches people to behave according to social norms.
Socialization
Children learn at a young age that there are distinct expectations for boys and girls. Cross-cultural studies reveal that children are aware of gender roles by age two or three. At four or five, most children are firmly entrenched in culturally appropriate gender roles (Kane 1996). Children acquire these roles through socialization, a process in which people learn to behave in a particular way as dictated by societal values, beliefs, and attitudes. For example, society often views riding a motorcycle as a masculine activity and, therefore, considers it to be part of the male gender role. Attitudes such as this are typically based on stereotypes, oversimplified notions about members of a group. Gender stereotyping involves overgeneralizing about the attitudes, traits, or behavior patterns of women or men. For example, women may be thought of as too timid or weak to ride a motorcycle.
Gender stereotypes form the basis of sexism. Sexism refers to prejudiced beliefs that value one sex over another. Sexism varies in its level of severity. In parts of the world where women are strongly undervalued, young girls may not be given the same access to nutrition, healthcare, and education as boys. Further, they will grow up believing that they deserve to be treated differently from boys (UNICEF 2011; Thorne 1993). While illegal in the United States when practiced as discrimination, unequal treatment of women continues to pervade social life. It should be noted that discrimination based on sex occurs at both the micro- and macro-levels. Many sociologists focus on discrimination that is built into the social structure; this type of discrimination is known as institutional discrimination (Pincus 2008).
Gender socialization occurs through four major agents of socialization: family, education, peer groups, and mass media. Each agent reinforces gender roles by creating and maintaining normative expectations for gender-specific behavior. Exposure also occurs through secondary agents such as religion and the workplace. Repeated exposure to these agents over time leads men and women into a false sense that they are acting naturally rather than following a socially constructed role.
Family is the first agent of socialization. There is considerable evidence that parents socialize sons and daughters differently. Generally speaking, girls are given more latitude to step outside of their prescribed gender role (Coltrane and Adams 2004; Kimmel 2000; Raffaelli and Ontai 2004). However, differential socialization typically results in greater privileges afforded to sons. For instance, boys are allowed more autonomy and independence at an earlier age than daughters. They may be given fewer restrictions on appropriate clothing, dating habits, or curfew. Sons are also often free from performing domestic duties such as cleaning or cooking and other household tasks that are considered feminine. Daughters are limited by their expectation to be passive and nurturing, generally obedient, and to assume many of the domestic responsibilities.
Even when parents set gender equality as a goal, there may be underlying indications of inequality. For example, when dividing up household chores, boys may be asked to take out the garbage or perform other tasks that require strength or toughness, while girls may be asked to fold laundry or perform duties that require neatness and care. It has been found that fathers are firmer in their expectations for gender conformity than are mothers, and their expectations are stronger for sons than they are for daughters (Kimmel 2000). This is true in many types of activities, including preference of toys, play styles, discipline, chores, and personal achievements. As a result, boys tend to be particularly attuned to their father's disapproval when engaging in an activity that might be considered feminine, like dancing or singing (Coltraine and Adams 2008). It should be noted that parental socialization and normative expectations vary along lines of social class, race, and ethnicity. African-American families, for instance, are more likely than Caucasians to model an egalitarian role structure for their children (Staples and Boulin Johnson 2004).
The reinforcement of gender roles and stereotypes continues once a child reaches school age. Until very recently, schools were rather explicit in their efforts to stratify boys and girls. The first step toward stratification was segregation. Girls were encouraged to take home economics or humanities courses and boys to take math and science courses.
Studies suggest that gender socialization still occurs in schools today, perhaps in less obvious forms (Lips 2004). Teachers may not even realize that they are acting in ways that reproduce gender differentiated behavior patterns. Yet, any time they ask students to arrange their seats or line up according to gender, teachers are asserting that boys and girls should be treated differently (Thorne 1993).
Even in levels as low as kindergarten, schools subtly convey messages to girls indicating that they are less intelligent or less important than boys. For example, in a study involving teacher responses to male and female students, data indicated that teachers praised male students far more than their female counterparts. Additionally, teachers interrupted girls more and gave boys more opportunities to expand on their ideas (Sadker and Sadker 1994). Further, in social as well as academic situations, teachers have traditionally positioned boys and girls oppositionally—reinforcing a sense of competition rather than collaboration (Thorne 1993). Boys are also permitted a greater degree of freedom regarding rule-breaking or minor acts of deviance, whereas girls are expected to follow rules carefully and to adopt an obedient posture (Ready 2001). Schools reinforce the polarization of gender roles and the age-old "battle of the sexes" by positioning girls and boys in competitive arrangements.
Mimicking the actions of significant others is the first step in the development of a separate sense of self (Mead 1934). Like adults, children become agents who actively facilitate and apply normative gender expectations to those around them. When children do not conform to the appropriate gender role, they may face negative sanctions such as being criticized or marginalized by their peers. Though many of these sanctions are informal, they can be quite severe. For example, a girl who wishes to take karate class instead of dance lessons may be called a "tomboy" and face difficulty gaining acceptance from both male and female peer groups (Ready 2001). Boys, especially, are subject to intense ridicule for gender nonconformity (Coltrane and Adams 2004; Kimmel 2000).
Mass media serves as another significant agent of gender socialization. In television and movies, women tend to have less significant roles and are often portrayed as wives or mothers. When women are given a lead role, they are often one of two extremes: a wholesome, saint-like figure or a malevolent, hypersexual figure (Etaugh and Bridges 2003). This same inequality is pervasive in children's movies (Smith 2008). Research indicates that of the 101 top-grossing G-rated movies released between 1990 and 2005, three out of four characters were male. Out of those 101 movies, only seven were near being gender balanced, with a character ratio of less than 1.5 males per 1 female (Smith 2008).
Television commercials and other forms of advertising also reinforce inequality and gender-based stereotypes. Women are almost exclusively present in ads promoting cooking, cleaning, or childcare-related products (Davis 1993). Think about the last time you saw a man star in a dishwasher or laundry detergent commercial. In general, women are underrepresented in roles that involve leadership, intelligence, or a balanced psyche. Of particular concern is the depiction of women in ways that are dehumanizing, especially in music videos. Even in mainstream advertising, however, themes intermingling violence and sexuality are quite common (Kilbourne 2000).
Social Stratification and Inequality
Stratification refers to a system in which groups of people experience unequal access to basic, yet highly valuable, social resources. The United States is characterized by gender stratification (as well as stratification of race, income, occupation, and the like). Evidence of gender stratification is especially keen within the economic realm. Despite making up nearly half (49.8 percent) of payroll employment, men vastly outnumber women in authoritative, powerful, and, therefore, high-earning jobs (U.S. Census Bureau 2010). Even when a woman's employment status is equal to a man's, she will generally only make 77 cents for every dollar made by her male counterpart (U.S. Census Bureau 2010). Additionally, women who are in the paid labor force still do the majority of the unpaid work at home. On an average day, 84 percent of women (compared to 67 percent of men) spend time doing household management activities (U.S. Census Bureau 2011). This double duty keeps working women in a subordinate role in the family structure (Hochschild and Machung 1989).
Gender stratification through the division of labor is not exclusively American. According to George Murdock's classic work, Outline of World Cultures (1954), all societies classify work by gender. When a pattern appears in all societies, it is called a cultural universal. While the phenomenon of assigning work by gender is universal, its specifics are not. The same task is not assigned to either men or women worldwide. But the way each task's associated gender is valued is notable. In Murdock's examination of the division of labor among 324 societies around the world, he found that in nearly all cases the jobs assigned to men were given greater prestige (Murdock and White 1968). Even if the job types were very similar and the differences slight, men's work was still considered more vital.
There is a long history of gender stratification in the United States. When looking to the past, it would appear that society has made great strides in terms of abolishing some of the most blatant forms of gender inequality (see timeline below) but underlying effects of male dominance still permeate many aspects of society.
Before 1809—Women could not execute a will
Before 1840—Women were not allowed to own or control property
Before 1920—Women were not permitted to vote
Before 1963—Employers could legally pay a woman less than a man for the same work
Before 1973—Women did not have the right to a safe and legal abortion (Imbornoni 2009)
Gender Inequality in the United States
The women's movement changed American life in many ways but gender inequality still persists. Let's look at examples of such inequality, much of it taking the form of institutional discrimination, can occur even if it is not intended to happen. We start with gender inequality in income and the workplace and then move on to a few other spheres of life.