Great Slice from a Knucklehead
Last updated
Page ID

11951
\( \newcommand{\vecs}[1]{\overset { \scriptstyle \rightharpoonup} {\mathbf{#1}} } \) \( \newcommand{\vecd}[1]{\overset{-\!-\!\rightharpoonup}{\vphantom{a}\smash {#1}}} \)\(\newcommand{\id}{\mathrm{id}}\) \( \newcommand{\Span}{\mathrm{span}}\) \( \newcommand{\kernel}{\mathrm{null}\,}\) \( \newcommand{\range}{\mathrm{range}\,}\) \( \newcommand{\RealPart}{\mathrm{Re}}\) \( \newcommand{\ImaginaryPart}{\mathrm{Im}}\) \( \newcommand{\Argument}{\mathrm{Arg}}\) \( \newcommand{\norm}[1]{\| #1 \|}\) \( \newcommand{\inner}[2]{\langle #1, #2 \rangle}\) \( \newcommand{\Span}{\mathrm{span}}\) \(\newcommand{\id}{\mathrm{id}}\) \( \newcommand{\Span}{\mathrm{span}}\) \( \newcommand{\kernel}{\mathrm{null}\,}\) \( \newcommand{\range}{\mathrm{range}\,}\) \( \newcommand{\RealPart}{\mathrm{Re}}\) \( \newcommand{\ImaginaryPart}{\mathrm{Im}}\) \( \newcommand{\Argument}{\mathrm{Arg}}\) \( \newcommand{\norm}[1]{\| #1 \|}\) \( \newcommand{\inner}[2]{\langle #1, #2 \rangle}\) \( \newcommand{\Span}{\mathrm{span}}\)\(\newcommand{\AA}{\unicode[.8,0]{x212B}}\)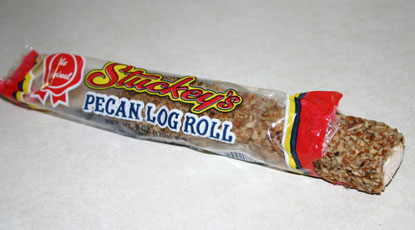 Here is a great example of a Slice of Life story written by Jon Scieszka from his book, Knucklehead.

Of all the Scieszka brother memories, I believe it was a family car trip that gave us our finest moment of brotherhood. We were driving cross-country from Michigan to Florida, all of us, including the family cat (a guy cat, naturally), in the family station wagon. Somewhere mid-trip we stopped at one of those Stuckey's rest-stop restaurants to eat and load up on Stuckey's candy.
We ate lunch, ran around like maniacs in the warm sun, then packed back into the station wagon—Mom and Dad up front, Jim, Jon, Tom, Gregg, Brian, Jeff, and the cat in back. Somebody dropped his Stuckey's Pecan Log Roll on the floor. The cat found it and must have scarfed every bit of it, because two minutes later we heard that awful ack ack ack sound of a cat getting ready to barf.
The cat puked up the pecan nut log. Jeff, the youngest and smallest (and closest to the floor) was the first to go. He got one look and whiff of the pecan-nut cat yack and blew his own sticky lunch all over the cat. The puke-covered cat jumped on Brian. Brian barfed on Gregg. Gregg upchucked on Tom. Tom burped a bit of Stuckey lunch back on Gregg. Jim and I rolled down the windows and hung out as far as we could, yelling in group-puke horror.
Dad didn't know what had hit the back of the car. No time to ask questions. He just pulled off to the side of the road. All of the brothers—Jim, Jon, Tom, Gregg, Brian, and Jeff—spilled out of the puke wagon and fell in the grass, gagging and yelling and laughing until we couldn't laugh anymore.
What does it all mean? What essential guy wisdom did I learn from this?
Stick with your brothers. Stick up for your brothers. And if you ever drop a pecan nut log in a car with your five brothers and the cat . . . you will probably stick to your brothers.